Amaluna is a touring Cirque du Soleil production created and directed by Diane Paulus. It is the 32nd original production from Cirque du Soleil since 1984. Amaluna is a coming-of-age story about the passage of feminine wisdom from queen to daughter. The show premiered on April 19, 2012 in Montreal, Quebec. Amaluna is notable for having a cast that is 70% female and an all female band.[1]
The title Amaluna is a combination of the words "Ama", a common reference to "mother" in many languages, and "luna" which means "moon" in many languages and is a symbol of femininity.[2]
Synopsis
[
]
A re-imagining of the William Shakespeare's play The Tempest[3], Amaluna takes place on a island ruled by Goddesses and guided by the cycles of the moon. The story begins with the queen of the Goddesses Prospera directing a coming-of-age ceremony in a rite that honors femininity, renewal, rebirth and balance which marks the passing of these insights and values from one generation to the next.
In a storm caused by Prospera's ceremony, a group of men wash up on the island. Prospera's daughter's Miranda falls in love with one of the men who washed up on the island Romero. This begins a set of numerous demanding trials between the two lovers to achieve a mutual love for each other. [2]
Set and Technical Information
[
]
Scott Pask was inspired by nature when creating the stage for Amaluna. For the beam structure of the tent, he was inspired by branches and made them to resemble bamboo. These branches lead to edges of the ring and merge with the support poles of the tent where they resemble trees covered in flora. These trees are all handcrafted and are suppose to look natural.[2]
For the lighting of the stage, the principle colors of Amaluna reflect the colors of peacock feathers. For intense drama during the show, the lighting cast a shadow on the surface of the tent to create a sense of danger.[2]
There are 174 branches in 534 sections (90 in the canopy and 84 upstage) making a total of 1.7 kilometers (1.1 mi).
There are three models of branches in the canopy and 35 in the upstage.
The 25-ft diameter Carousel weighs 6,000 lbs.
The Grid weighs 8,600 lbs and includes three acrobatic winches, each able to lift loads up to 400 lbs at 10 feet per second.
The acrobatic winch in the center of the Carousel can lift up to 1,000 lbs at 10 feet per second.
The Water-bowl is 5'5" tall, 7'3" in diameter, and weighs 5,500 lbs when filled with water.
The six Chandeliers are made of aluminum tubes bent and positioned to create the effect of a mobile with a span of 14.5 ft.
Costume Design
[
]
Amanluna's costume designer Mérédith Caron wanted an Mediterranean styled design for the show. She was inspired by dresses from the Elizabethan Period with subtle hints of Asian and Scandinavian designs.
For Prince Romeo's men's costumes, they were inspired by the Italian Renaissance outfits.
Queen Prospera wears a large golden mantle composed of four rectangles on which are printed in sublimation the cover image of GAIA, the book of photographs taken in space by Cirque du Soleil founder Guy Laliberté. It shows a majestic cloud system captured at a distance of 350 km above the Earth's surface.[2]
The peacock costumes are made up of 14 layers of heat pleated materials trimmed in leather and stretch metallic fabric. The tails open out to a "fan" of eight feet with hydraulic pistons that compensate for their weight.
For the Valkyries' costumes in the Aerial Straps act, Mérédith Caron was inspired by the oceans, above and below the surface. Shades of blue and green evoking Scandinavia mix with shades of sky and sea to compose a soothing palette of sophistication.
There are over 130 costumes.[2]
Characters
[
]
Prospera: She is a Goddess with magical powers and mother to the main character Miranda. She is determined to let Miranda find true love, but uses her powers to guide her to her true lover.
Miranda: Miranda is one of the two main characters of Amaluna. She is a girl on the brink of womanhood and seeks to find true love. Daughter to the Goddess Prospera, Miranda is a romantic, full of fun, enthusiasms, dreams and mischief.
Romeo: Washed upon the shores of Amaluna, Prince Romeo is the leader of the group of young man stranded on the island. Romeo is seeking true love as well just like Miranda and Prospera is guiding both Romeo and Miranda together.
Cali: A half-human half lizard, Cali is jealous of the newly arrived group of men. He has known Miranda for most of his life, but Miranda treats him like her pet. Cali is determined to prevent Romeo and Miranda from being together.
Moon Goddess: The Moon Goddess has a strong female presence in Amaluna. She uses her powers to help and hinder the two lovers' journey to find true love.
Acts
[
]
Act One
Magic Pageant (Opening)
Unicycle Duo: Two artists come out on stage wearing hoop skirts while riding on unicycles.
Aerial Straps: The Storm Goddesses come out on stage and perform a coordinated Aerial Strap routine.
Peacock Dance (Contemporary Dance / Suspended Poles): The Peacock Goddess dances with Romeo while the forest creatures watch.
Clown Act (Meeting): Mainha & Papulya: Mainha meet each other Papula meet each other.
Vocal Aerial Hoop: The Moon Goddess performs an aerial hoop performance while singing.
Water Bowl: Miranda dives into a water bowl while Hand balancing on canes.
Uneven Bars: The Amazons perform on uneven bars.
Act Two
Teeterboard: The captured sailors perform on a teeterboard while in capture.
Manipulation (Object Balancing): The Balance Goddess balances 13 palm fronds of various size.
1000 Arms Inspired by the Chinese Thousand Arms Guanyin Dance, The Peacock Goddess and a group of dancers come out on stage and perform a choreographed dance.
Chinese Pole: As Miranda is taken away by The Peacock Goddess, Romeo performs and climbs on a Chinese Pole.
Juggling: Cali juggles on top of the water bowl.
Banquine: The sailors and Miranda's friends perform a banquine routine.
Finale: The entire cast comes out on stage and Romeo and Miranda reunite.
Cry Wheel: One of the sailors performs on a Cyr Wheel.
The Storm (Aerial Straps Duo / Transition): Two performers perform and aerial straps routine and the group of sailors arrive on the island.
Tightrope: A group of 4 performers deos various tricks on a set of tightropes.
Hula Hoops: a performer juggles a lot of hula hoops on her body.
Fixed Trapeze Duo: A couple representing Romeo and Miranda perform on a fixed trapeze.
Water Meteors / Icarian Games: A group of performers twirl LED covered water meteors while performing Icarian Games.
Hoop Diving: A group of performers dive and tumble through hoops.
Diabolo: The Peacock Goddess performs a diabolos routine.
Icarian Games: 8 performers perform a 4 set Icarian Games.
Clown Act (Babies): Jeeves helps Deeda give birth.
Music
[
]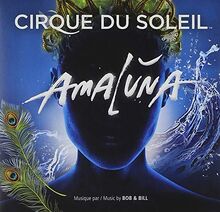 Amaluna's music is composed by Guy Dubuc and Marc Lessard (also known as Bob and Bill). Amaluna's music in Amaluna is also the first Cirque du Soleil show to feature an all female group of musicians.
Vocalist

[

]
Prospera

[

]
Julie McInnes: Apr 2012 - Jan 2015
Amanda Zidow: Jan 2015 - Present
Nesrine Belmokh: May 2015 - Jun 2015 (temporary replacement for Amanda Zidow)
Female singer

[

]
Jenifer Aubry: Apr 2012 - Present
Moon Goddess

[

]
Marie-Michelle Faber: Apr 2012 - Apr 2013, May 2015 to Jul 2018
For more information on the songs featured in Amaluna, please visit Amaluna (Soundtrack).
 Filmography
[
]
A live performance of Amaluna was recorded in Toronto, Canada in 2012. It was released on DVD on December 1, 2013.
Touring Schedule
[
]
The following color boxes indicate the region of each performance:
  EU  Europe   NA  North America   SA  South and Central America   AP  Asia/Pacific   OC  Oceania   AF  Africa

Grand Chapiteau Tour
2012 - 2018 Schedule
2012 Schedule
  NA  Montréal, QC - From April 19 to July 15, 2012 (show première)
  NA  Québec City, QC - From July 25 to August 19, 2012
  NA  Toronto, ON - From September 7 to November 4, 2012
  NA  Vancouver, BC - From November 23, 2012 to January 20, 2013

2013 Schedule
  NA  Seattle, WA - From January 31 to March 24, 2013
  NA  Calgary, AB - From April 10 to May 19, 2013
  NA  Edmonton, AB - From May 29 to June 23, 2013
  NA  Denver, CO - From July 18 to August 25, 2013
  NA  Minneapolis, MN - From September 26 to October 20, 2013
  NA  San Francisco, CA - From November 13, 2013 to January 12, 2014

2014 Schedule
  NA  San Jose, CA - From January 22 to March 2, 2014
  NA  New York, NY - From March 20 to May 18, 2014
  NA  Boston, MA - From May 29 to July 6, 2014
  NA  Washington, DC - From July 31 to September 10, 2014
  NA  Atlanta, GA - From October 3 to November 30, 2014
  NA  Miami, FL- From December 11, 2014 to January 25, 2015

2015 Schedule
  NA  Houston, TX - From February 11 to March 22, 2015
  EU  Madrid, ES - From May 6 to June 21, 2015
  EU  PortAventura World, ES - From July 3 to August 23, 2015
  EU  Brussels, BE - From September 10 to October 25, 2015
  EU  Paris, FR - From November 5, 2015 to January 3, 2016

2016 Schedule
(Amaluna played in the Royal Albert Hall in London, UK during this time)
  EU  Amsterdam, NL - From March 17 to May 1, 2016
  EU  Frankfurt, DE - From May 12 to June 12, 2016
  EU  Knokke-Heist, BE - From July 14 to August 21, 2016
  EU  Manchester, UK - From September 7 to October 2, 2016
  EU  Düsseldorf, DE - From November 11 to December 28, 2016

2017 Schedule
(Amaluna played in the Royal Albert Hall in London, UK during this time)
  EU  Vienna, AT - From March 9 to April 17, 2017
  EU  Rome, IT - From Ail 30 to June 11, 2017
  SA  Asuncion, PY - From July 26 to August 13, 2017
  SA  Montevideo, UY - From August 30 to September 15, 2017
  SA  São Paulo, BR - From October 5 to December 15, 2017

2018 Schedule
  SA  Rosario, AR - From February 14 to March 4, 2018
  SA  Buenos Aires, AR - From March 15 to April 15, 2018
  SA  Cordoba, AR - From April 26 to May 13, 2018
  SA  Santiago, CL - From May 31 to July 1, 2018
  SA  Quito, EC - From September 6 to September 30, 2018
  SA  Bogotá, CO - From October 26 to December 16, 2018

2019 Schedule
  NA  Dallas, TX - From January 23 to March 3, 2019
  NA  Phoenix, AZ - From March 15 to April 14, 2019
  NA  Los Angeles, CA - From April 25 to June 9, 2019
  NA  Oaks, PA - From July 24 to August 25, 2019
  NA  Winnipeg, MB - From September 14 to October 20, 2019
  NA  San Francisco, CA - From November 19, 2020 to January 20, 2020

2020 Schedule
  NA  Sacramento, CA - From January 22 to March 1, 2020 (Grand Chapiteau Finale)
  AP  Hong Kong, CN - From April 2 to April 26, 2020 (Cancelled)

Arena Tour
2016 Schedule

  EU  Royal Albert Hall, London, UK - From January 16 to March 6, 2016

2017 Schedule

  EU  Royal Albert Hall, London, UK - From January 12 to February 26, 2017

Gallery
[
]
Promotional
Performance
Videos
[
]
Trailers
Behind the Scenes
References
[
]
External Links
[
]
Official Website Amaluna Facebook Page
Touring & Resident Shows
Touring Shows

Arena
Grand Chapiteau
Retired

Resident Shows

Hamburg, DE
Hangzhou, CN
Las Vegas, NV, USA
Riviera Maya, MX
Retired

Upcoming Shows